Math Riddle Puzzle eBook Review
Few people doubt the benefit of encouraging children to practice their sums. Unfortunately it's just not that easy to present your child with a whole page of addition – and expect them to do it without complaining.
Although it's a really good way of becoming confident, the constant practice of addition, subtraction, multiplication and division can be a little tedious. You could 'mix it up' and give a few questions of each … but it's not always that much fun. You could also reward and bribe your way to the finish line … but it only works in the short term.
So, here's a fantastic idea from teacher Tim Wei. He noticed that many students would be more attracted to puzzles than straightforward drill sheets. Put the two together and 'Hey, Presto!' – the kids were much more engaged with their homework.
The students are still tasked with completing a page of addition. But this time each page also features a funny riddle to solve. Great questions such as "Why did the cookie go to the doctor?" or "Why was the broom late?" could only be answered by completing the sums.
Parents began writing notes that homework was finished 'even before dinner!' The children's grades improved, there was more enthusiasm and more accuracy.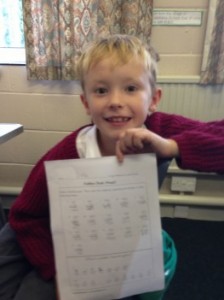 The online comments are great but I wanted to see how Josh – the greatest critic of all things mathematical – would get on. I'm glad to say that Josh took to the worksheets well and, after an initial reluctance (oh, no, not again!), began to really enjoy the work.
He's at the age (so am I) when finding out 'A shark's favourite game' is really appealing. The parting comment, as football beckoned, was "It's all right, like the game, fun, can I go out? what's for dinner?" If you read through that I think it's a pretty good recommendation!
It was a very productive half hour and he seems keen to do it again tomorrow. We'll probably aim for around 3 – 4 times a week and, as Tim has designed, a page a day.
I hope this review was useful. To visit Tim's page please click here. There's a preview, more comments, and an instant order form.  If you decide to order I'll get a small commission – a lot less than a new football – but really appreciated 🙂
STOP PRESS!!! As a special bonus Tim is offering Math Riddle and his latest book Secret Code Math for  $17.95 – fantastic value!
Related Posts via Categories