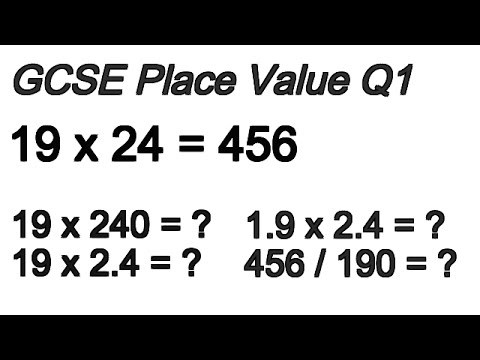 Place value is a very popular GCSE maths question, and usually involves either writing a number from words, or identifying the 'place value' of a specific digit. There might also be some 'rounding' questions.
Here's an example:
Write the number six thousand and twenty eight in figures
Write down the value of number 8 in 58,212
Write the number 3576 to the nearest thousand
… and here's the answers:
Time for you to work through?
Place value questions similar to the ones above
An alternative type of question is shown in the image for the page. This is closer to grade 2 GCSE maths and asks you to calculate an answer using a previously answered one. That was a bit complicated … it's probably easier to show an example:
Given that 48.6 × 35 = 1701, calculate

4.86 × 3.5
486 × 35
17.01 ÷ 35
… and here's the answers:
4.86 x 3.5 = 17.01
486 x 35 = 17010
17.01 ÷ 35 = 0.486
Here's a link to some similar questions.
Place value using the answer, to work out the answer …
This playlist might also be useful and should give a few examples.
[embedyt] https://www.youtube.com/embed?listType=playlist&list=PLPglScc3TJ-OfGMEIkqMYChxFlm2I_-6n[/embedyt]
Or, you can go directly to my YouTube channel to view the videos. Like a lot of maths revision videos, it's very helpful to stop the video, attempt the question and compare your solution. Please don't just passively watch … active revision will last a lot longer 🙂
GCSE maths place value questions appear on many exam papers and you can download the questions here. They can be relatively straightforward although you need to be careful about making sure that you apply the rules.
The main things to remember when working with GCSE maths place value questions are:
Always make the decimal point clear in your answer – it could lose you a mark …
Numbers less than zero have a negative index to show that the decimal point has been moved left
If you're not sure about moving the decimal point, use 'estimation' to get a good idea of the answer. This works particularly well with division place value questions.  There's a few examples in the videos attached.
If you'd like to ask for any more detail, or you're not sure about anything, please do ask a question in the comments section.
The answer videos are given below, to try to shorten the video length (!), I've only answered questions 1, 10 and 15. You can download the complete worked solutions here.
All very best with your studies.
Question 1
Question 7
Question 15

Watch these videos on YouTube:
Related Posts via Categories