These questions on using SohCahToa can seem a little daunting.. but they are used extensively in maths and have some real, practical applications.
Watch the video and try the quick test.
You can use SohCahToa – the "trigonometric functions"
To find the size of an angle you need to know the lengths of two of the sides.
The sides are then labelled relative to the angle you need to find – in other words, 'opposite' is opposite. So: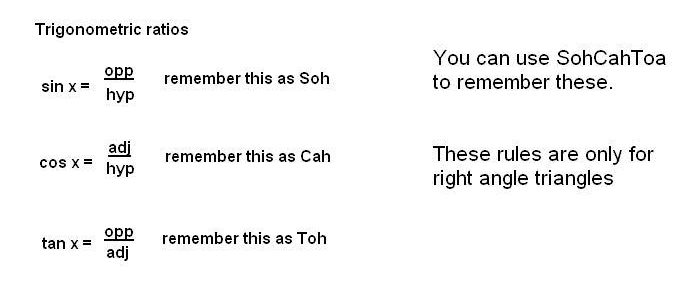 A typical exam question would be something like:
"Calculate the size of angle x in this right angle triangle. Give your answer correct to 3 significant figures'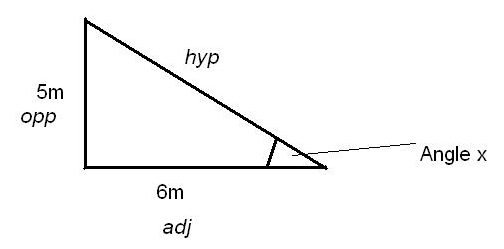 With these type of questions it's better to have a series of steps:
label the side opposite to the angle
label the hypotenuse (longest side)
label the adjacent
decide which ratio from SohCahToa – in this question we are going to use Toa
So to calculate the angle:
make sure the calculator is in degree mode (look for D symbol on your display)
Use the inverse trigonometric function (on a scientific calculator use the SHIFT key to access)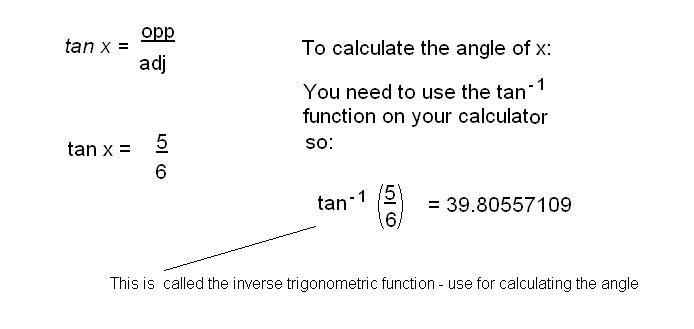 The angle x is: 39.80557109 degrees
To 3 significant figures: 39.8 degrees
Trigonometry  is an really useful part of maths and is used in architecture, building and all sorts of construction. From finding the heights of trees, towers or ocean tides to navigation, physics and astronomy – you'll find some trigonometry.
Did you know that the 'trig' bit means 'triangle' and the 'metry' bit means 'measure?!'
Watch the videos on YouTube:
How to find the missing angle in a right angle triangle