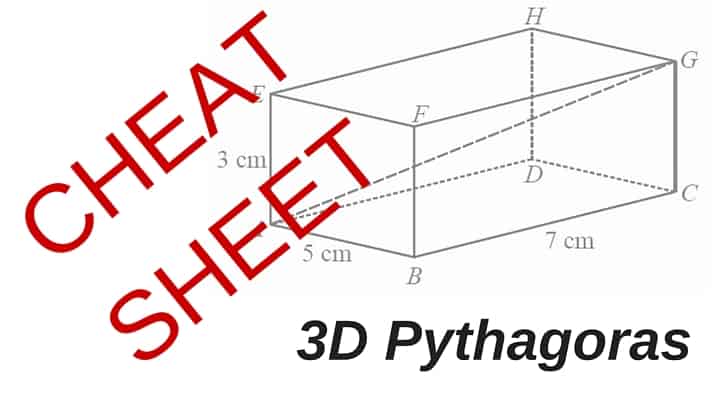 GCSE mathematics questions on how to work out 3D Pythagoras appear on many exam papers and you can download the questions from here. They can be a little challenging and please do practice all of the problems – here's the link to the answers.
The main things to remember when working with 3D Pythagoras questions are:
– There's usually 2 questions and you'll be using Pythagoras for both
– Remember that asquared = bsquared + csquared can be changed to suit whatever labelling has been added to the diagram
– Remember that you're calculating 'asquared' so you'll need to square root at the end
– Redraw each of the right angle triangles so you can 'show your working'
– Take your time and work to the right degree of accuracy
Here's a 'cheat sheet' to download – it might help with your revision
If you'd like to ask for any more detail, or you're not sure about anything, please do ask a question in the comments section.
All best with your studies 🙂
Watch on YouTube:
3D Pythagoras Cheat Sheet – everything in one easy revision crib sheet
How to work out 3D Pythagoras GCSE maths question 1
How to work out 3D Pythagoras GCSE maths question 2