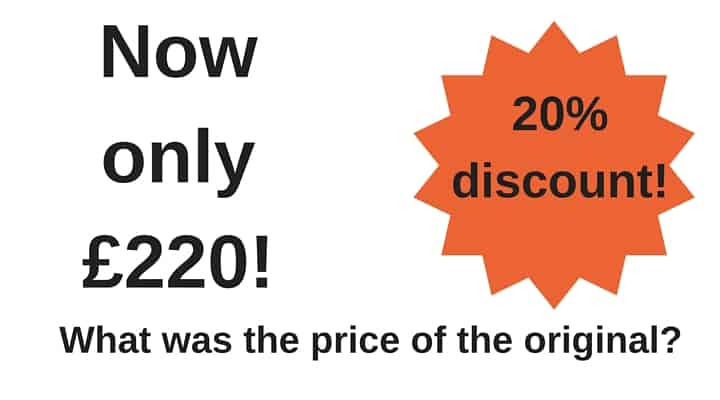 GCSE mathematics questions on how to work out reverse percentages appear on many exam papers and you can download the questions from here. They can be a little challenging and please do practice all of the problems – here's the link to the answers.
The main things to remember when you are asked how to work out reverse questions are:
– Work out the value in its equivalent percentage. For instance £220 = 80%
– Change the percentage to a decimal and divide through
– Don't get confused with working out 20% and then adding it! An example would be:
"I worked it out at £264
20% OF £100 =£20
20% OF £100=£20
20% OF £20=£4
£220 ADD £44 =£264"
You need to be a little careful with this. The question isn't asking for £220 + 20% (in which case the calculation would be correct). The answer you're looking for is a number that is 100%, not a value of 120%.
If you'd like to ask for any more detail, or you're not sure about anything, please do ask a question in the comments section.
All best with your studies 🙂
Watch on YouTube:
How to work out a reverse percentage – GCSE maths question 1
How to work out a reverse percentage – GCSE maths question 4
How to work out a reverse percentage – GCSE maths question 7a
How to work out a reverse percentage – GCSE maths question 7b