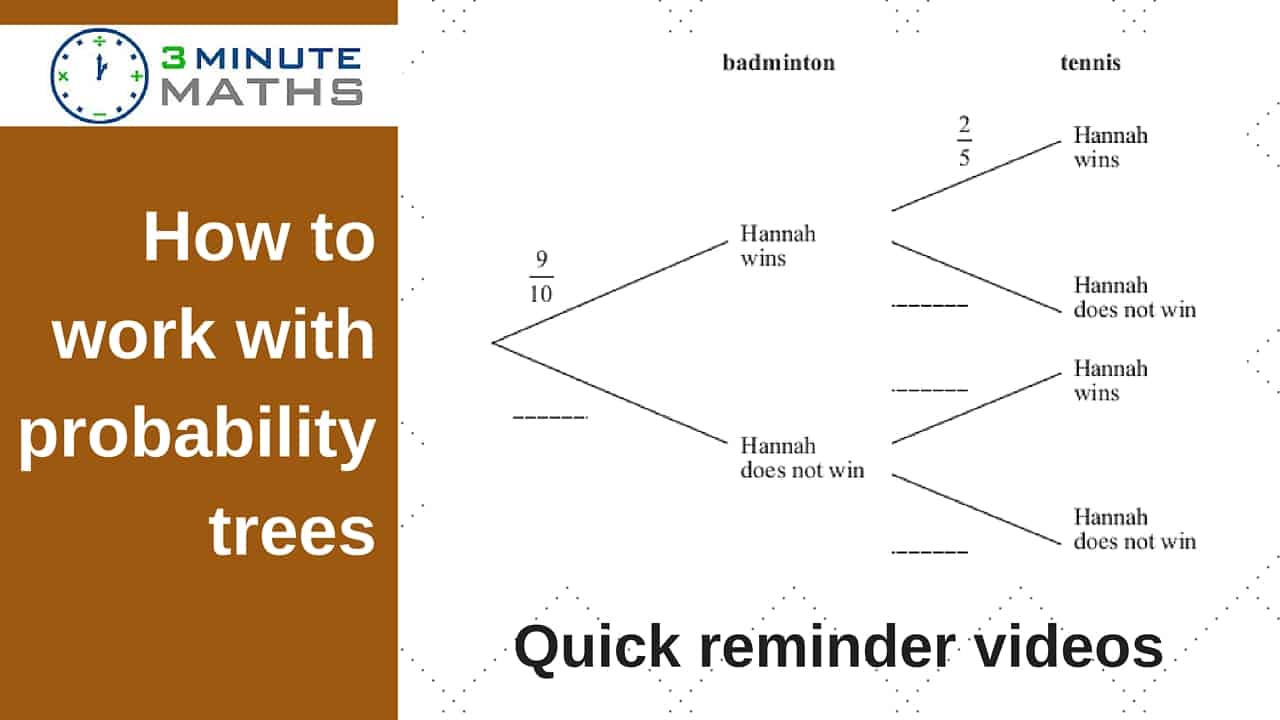 Here's a few videos on how to work with a probability tree diagram that I hope might be useful. They've always been fairly popular on GCSE mathematics and generally fall into 2 types of questions: 'with' and 'without' replacement. The 'with' tend to be entirely unrelated events, such as badminton and tennis games. The 'without' are usually sweets or marbles taken out of bags.
Probability tree diagram questions are usually around grade 4 – 5 on a GCSE mathematics paper. They are fairly straightforward providing you approach them in a logical way, although (sometimes) you might need to read through the question a few times.
Here's a couple of examples of how to work with a probability tree diagram and you can download the practice questions here:
Top Tips!
● Make sure you read the question through a few times
● Is it 'without replacement?' Make sure the 'second pick' is out of one less
● Leave plenty of space, perhaps you could work landscape (the examiner doesn't mind!)
● Fill out all the information, even the bits that aren't required, it'll help to answer the question completely
● Only reduce fractions at the end, it makes the calculations much easier
If you'd like to ask for any more detail, or you're not sure about anything, please do ask a question in the comments section.
All best with your studies
Watch on YouTube
How to use a tree diagram to solve probability – GCSE question level 5  
How to use a tree diagram to solve probability – Tiles GCSE question level 5  
How to use a tree diagram to solve probability – Badminton Tennis GCSE question level 5