This video looks at a GCSE maths rearranging a formula type questions and is aimed at around grade 5 … although they are slightly more challenging, particularly question 3.
1. Make t the subject of the formula

2. Make h the subject of the formula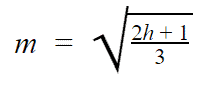 3. Make y the subject of the formula


Download a copy of the questions here: Quick Test Rearranging formulas
Here's a copy of the written answers: Quick Test – Rearranging formulae ANSWERS
These types of questions appear in all the main GCSE exam boards – Edexcel, AQA, OCR and Educas. It's good to practice rearranging formulas, as they are fairly popular on most GCSE exam papers, and the skill will be quite useful if you choose to study maths at a higher level.
The main idea is to 'do the opposite,' so, if a term is negative – add a positive to both sides of the equation. Likewise a square root needs to be squared. Or a fraction needs to be multiplied (remember that fractions are just division). If possible, always avoid negative terms, particularly if it's going to be the subject.
Hopefully that paragraph wasn't too confusing – maybe watch the videos and see if that helps 🙂
Top Tips!
Try to thing about reading right to left, as well as left to right
Try to work methodically and, preferably, down the page
Always show your working
Remember to balance the equation around the equals sign
Here's a post that also might be of interest:
How to change the subject of a formula; grade 5 maths GCSE
Please do leave a comment below if you are not sure. Alternately you can view my YouTube channel and leave a comment there – I'll always try to respond as quickly as possible.
Watch this video on YouTube:
Rearranging a formula – slightly more challenging