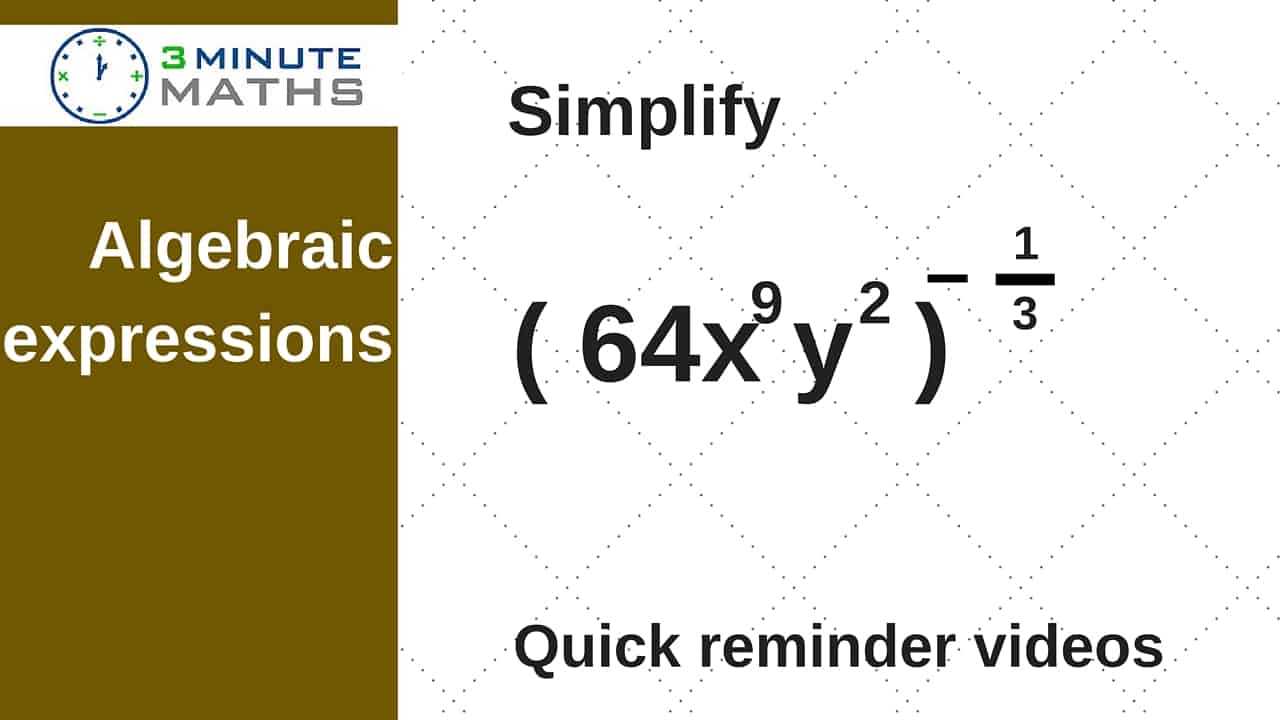 Algebra expressions
… are becoming quite popular with GCSE maths questions. They are usually about reducing fractions and working with indices.
Top Tips!
● They are sometimes called 'working with indices'
● Learn the rules and try to apply them consistently
● Remember that an index of a half … means a square root
● …and an index of a third …. means a cube root
● Indices can be presented as fractions and you might need to add, subtract or multiply them
● Work methodically and down the page
If you'd like to ask for any more detail, or you're not sure about anything, please do ask a question in the comments section.
All best with your studies
Watch on YouTube
Expressions – simplify all terms with a square – GCSE maths
Expressions – simplify multiplication of terms – GCSE maths
Expressions – simplify with a power of a half – GCSE maths
Expressions – simplify with a power of negative one third
Expressions – simplify with a fraction – GCSE level 3
Expressions – simplify terms to the power of 4 – GCSE maths
Expressions – simplify divided terms – GCSE maths level 4
[easyazon_image align="none" height="160″ identifier="1447987934″ locale="UK" src="https://www.3minutemaths.co.uk/wp-content/uploads/2016/06/51yMr2Q1AvL.SL160.jpg" tag="matwra-21″ width="113″]
[easyazon_image align="none" height="160″ identifier="1910602132″ locale="UK" src="https://www.3minutemaths.co.uk/wp-content/uploads/2016/06/4128o11qTYL.SL160-1.jpg" tag="matwra-21″ width="108″]
[easyazon_image align="none" height="160″ identifier="1844198049″ locale="UK" src="https://www.3minutemaths.co.uk/wp-content/uploads/2016/06/51D0Sa98XHL.SL160-1.jpg" tag="matwra-21″ width="113″]