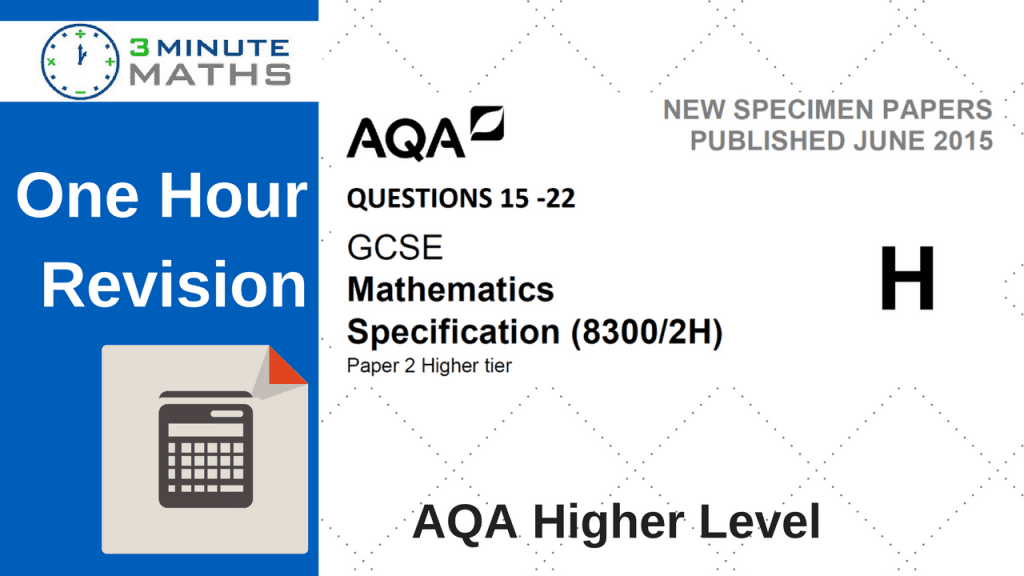 This is only the second post for AQA GCSE maths revision and it deals with AQA paper 2 Higher Calculator June 2015 based on the new specimen papers published June 2015.
Here's a link to the AQA paper 2 Higher Calculator June 2015 for you to download.
Here's the link to the hand written worked answers: AQA paper 2 Higher Calculator June 2015 WORKED ANSWERS
Here's a link to the mark scheme: AQA paper 2 Higher Calculator June 2015 MARK SCHEME
The previous post on the AQA non calculator paper GCSE maths revision has generated some good views although, interestingly, the Edexcel videos are much more popular. I sampled the audience to my YouTube channel and over 50% were studying for Edexcel with only 21% AQA. You can check out the results of the survey, on the channel community tab, here.
That said, I still like AQA GCSE maths revision papers. They are usually fairly well written, challenging, and cover some good topics.
Here's a table of the range of content for the 4 videos:
Questions 1 - 9
- geometric progression
- congruency
- gathering like terms
- equation of a straight line
- percentage reduction
- venn diagrams
- probability
- simultaneous equations
- HCF and product of prime factors
Questions 10 - 14
- ratio
- roots of a quadratic equation
- standard form
- mathematically similar
Questions 15 - 22
- combinations
- proof
- speed / distance / time
- f(x)
- direct proportion
- comparing costs
- histogram
Questions 23 - 26
- volume of a sphere and cone
- SohCahToa
- completing the square
- mathematically similar shapes
As before please don't just watch the videos! The whole idea is that, although each is 20 – 30 minutes in length, there is enough content to work through in around an hour of GCSE maths revision. Try each of the questions yourself … and then compare the solutions. If you get any problems it's also much more productive to break off and try some additional questions to reinforce.
Here's a link through to a post that might help to source some additional questions.
Or there is some excellent material available through Amazon.
Sometimes the hardest thing about GCSE maths revision is the English. Just reading, and understanding, what is required can be difficult. So do take your time with these questions – the 'pure maths, calculate this' type questions are usually fairly straightforward. The higher grades are achieved by answering the 5 – 6 mark questions and it's always a good idea to check the mark value before you attempt. You'll get a much better idea of the effort required.
Here's a link through to my book 'The Ultimate Guide Maths Survival Guide,' that might help.
There's also quite a lot of GCSE maths revision videos, on my YouTube channel. Again, please do stop and start to try each of the questions. If you're not sure about anything please do post a comment either below, or on the channel. I'll always try to respond.
Finally, if you live in the North Leeds area, we offer one to one tuition and here are some more details.