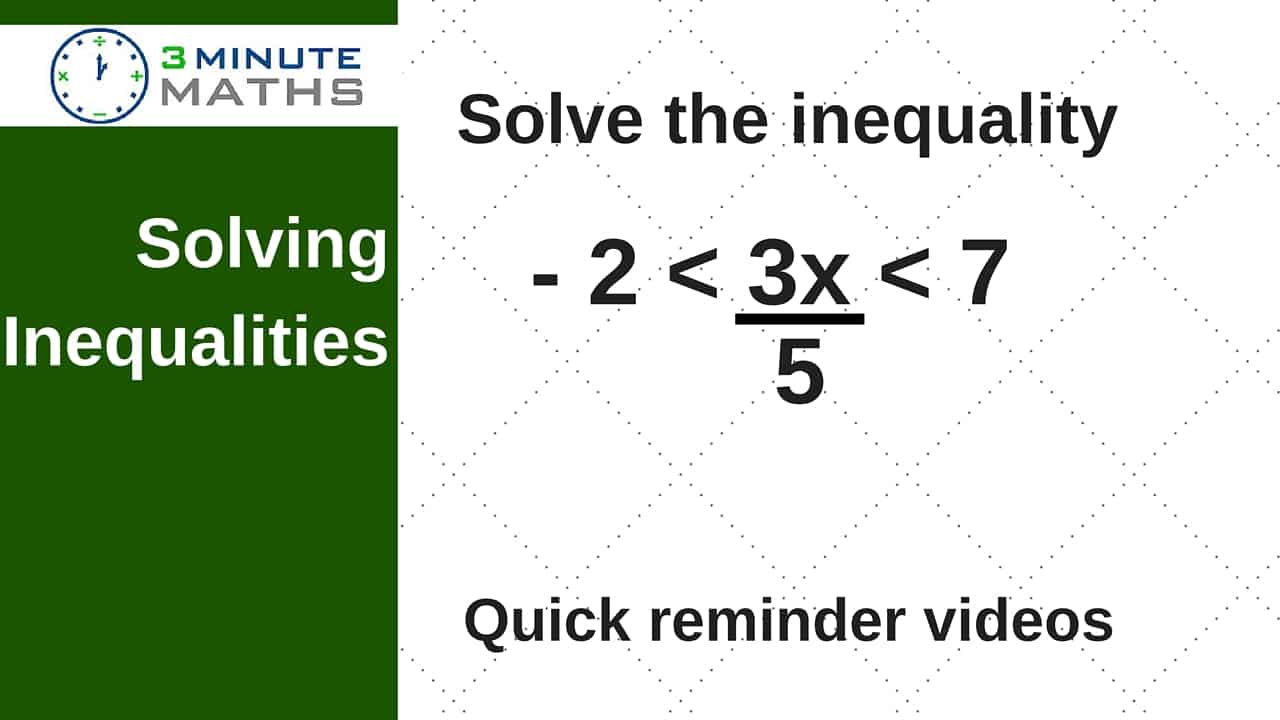 Solving inequalities seems to be a favourite maths GCSE question …
although it's fairly useless in real life. Even though we do tend to think in inequalities (see top tips) …. I haven't really come across a great application. It's good practice for linear equation solving – and can look interesting on a whiteboard – but that's about it. Sorry. Unless you know any different? Please post a comment below!
These videos tend to favour algebraic solutions, although here's posts on using a numberline (around grade 4), or graphing (level 6) and a quick 3 minute maths on solving as linear equations.
Top Tips!
● Inequalities can be treated in the same way as linear equations
● You're really just mathematically showing everyday speech ­ phrases like "at least" or "at most" or "no more than" or "no less than" can all be shown as an inequality
● It's pretty unlikely that you'll write inequalities in real life … but you'll certainly use them all the time!
● The most common use is making sure you've got enough money. ­ All your payments must be less than or equal to your income.
If you'd like to ask for any more detail, or you're not sure about anything, please do ask a question in the comments section.
All best with your studies
Watch on YouTube
Solving inequalities – GCSE maths level 5 question

Solving inequalities with fractions – GCSE maths level 7

Solving inequalities – GCSE maths level 4 question

Solving inequalities on a numberline – values of x – GCSE maths level 4
[easyazon_image align="none" height="160″ identifier="1844198049″ locale="UK" src="https://www.3minutemaths.co.uk/wp-content/uploads/2016/06/51D0Sa98XHL.SL160.jpg" tag="matwra-21″ width="113″]
[easyazon_image align="none" height="160″ identifier="1910602132″ locale="UK" src="https://www.3minutemaths.co.uk/wp-content/uploads/2016/06/4128o11qTYL.SL160.jpg" tag="matwra-21″ width="108″]
[easyazon_image align="none" height="160″ identifier="1447988094″ locale="UK" src="https://www.3minutemaths.co.uk/wp-content/uploads/2016/06/51wSzHAbu3L.SL160.jpg" tag="matwra-21″ width="113″]