How to work out the volume of a cylinder is typically a grade 4 GCSE question..
GCSE Grade C question to calculate the volume of a cylinder with a radius of 3cm and a height of 4cm.
How to work out the volume of a can of coke. Just a quick video to calculate if 330ml is accurate. It is… but my estimation shows 380ml ! I've not allowed for the coke can design and not measured too accurately. Although I hope it helps to get an idea of working out the volume of a 'real' cylinder.
A cylinder can be any size but it must have a circular top and base.
They are used in many different ways from cake boxes to transporting fuel.
Examples of cylinders are oxygen, gas, flask, pipe, bin, vase, engine, cup, torch, computer hard drive, shock absorber, can of baked beans, packet of biscuits, lamp post and candle. Contact us with any more suggestions!
It could be very important to find out a volume –
to avoid overfilling
using too much material
working out the cost
calculating the flow, pressure, density, mass
and so on…
The two measurements you will need to find are:
Height – usually given in the question – and area. 
Make sure that the units are the same i.e. centimetres or metres.
Calculate the area of the circle first …. by using the formula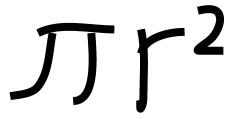 this is pronounced as 'pi r squared'
pi is usually 3.142
r is the radius of the circle
Note that 'r squared' means 'radius x radius' (NOT 2 x the radius!).
….. and then multiply by the height.
So, for a radius of 5cm and a height of 10 cm: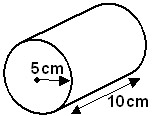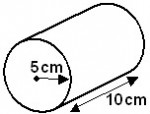 Area of circle is 'pi r squared'
so pi x 5 x 5
which = 3.142 x 5 x 5
Therefore, area of end circle = 78.55 cm squared
Then multiply the area of the circle by the height of the cylinder –
= 78.55 x 10
Therefore, total volume of cylinder = 785.5 cm cubed
Watch the videos on YouTube:
https://www.youtube.com/watch?v=ENnFJXk67xk
https://www.youtube.com/watch?v=yeeWRYMxp_0
https://www.youtube.com/watch?v=r-6m6GLqK7E
https://www.youtube.com/watch?v=WddhEd9bk0o