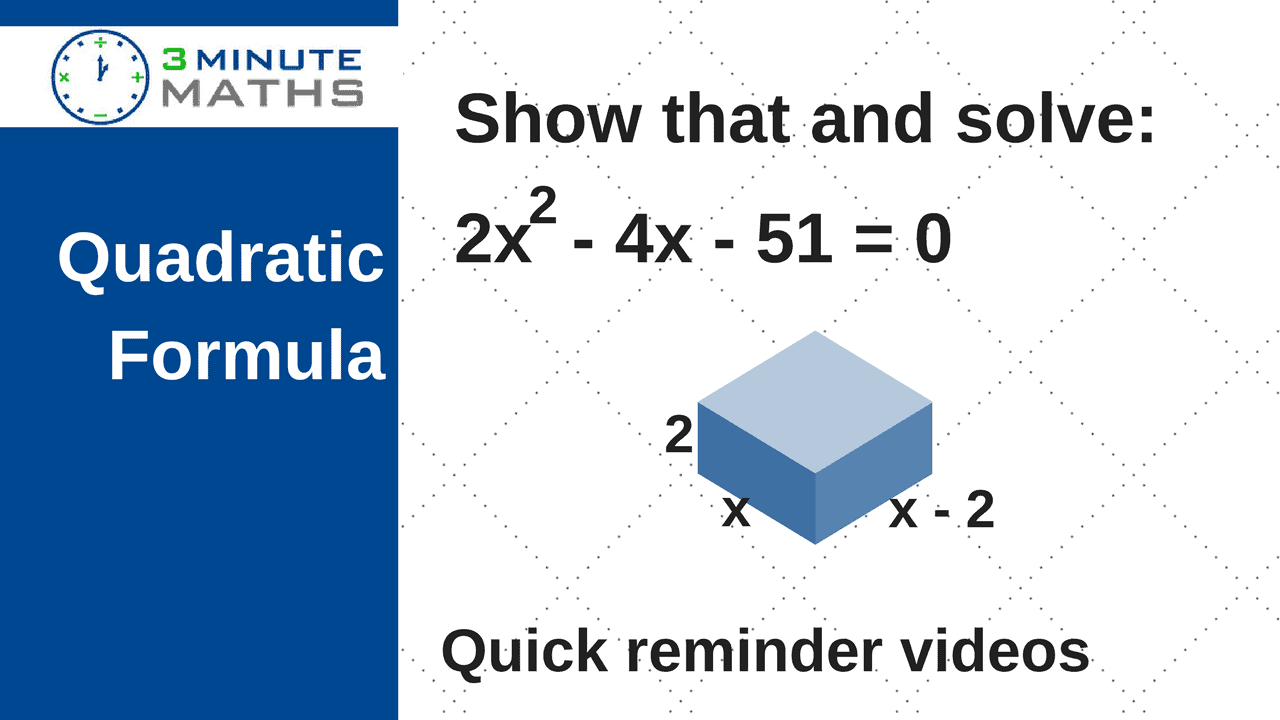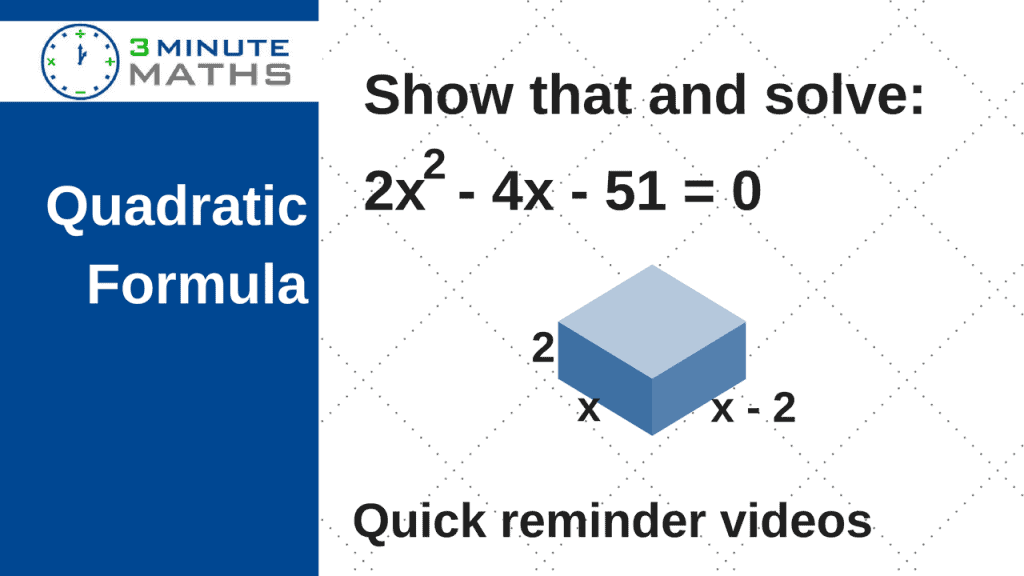 Quadratic formula questions …
… are usually something along the lines of:
solve 2x2 – 5x – 6 = 0
and you are asked to 'give your answer to 2 decimal places.' This usually means that you will need to use the quadratic formula:
Here's a link to a playlist with a number of different examples.
However you might also get questions asking you to 'show that.' These will still involve using the quadratic formula, but first you must show how an area or a volume can be calculated. Once you've demonstrated how to calculate, you'll then apply the formula to work out the value of x.
Top Tips!
Keep track of how you are answering the question by working down the page
Remember to show all your working logically – particularly if you are calculating an area or volume
Make sure the equation is equal to zero before you factorise
If you'd like to ask for any more detail, or you're not sure about anything, please do ask a question in the comments section.
Quadratic equations are very useful, with all sorts of applications. Here's a link through to 'what use is a quadratic equation,' if you would like to read further.
All best with your studies.
Watch on YouTube
'Show That' Quadratic Formula Volume Question GCSE Level 7
Quadratic Formula Area 'Show That' – GCSE Level 7
Here's some additional posts that might be of interest:
How to use a probability tree; GCSE mathematics
Tangent proof; where a line touches a circle
GCSE Mathematics Proof Questions; Answers
How to work with indices; GCSE maths practice questions
Using the Cosine Rule; Grade 6 Maths GCSE Non-Calculator
The cosine rule; GCSE maths grade 6+
Parallel or perpendicular lines on a graph; mid-level questions
Edexcel GCSE Maths June 2018 Paper 1
Edexcel Maths Higher Paper 2 November 2018
AQA GCSE Maths Higher 2018; Paper 1
Edexcel GCSE Maths Foundation Paper 2017; Paper 3
Edexcel GCSE maths foundation November 2018 paper 2
Speed Distance Time; mid level GCSE mathematics questions